Triumph with Sidecar & Golden Retriever
Mel and TJ riding their Triumph Thunderbird Adventurer with Oz Sidecar.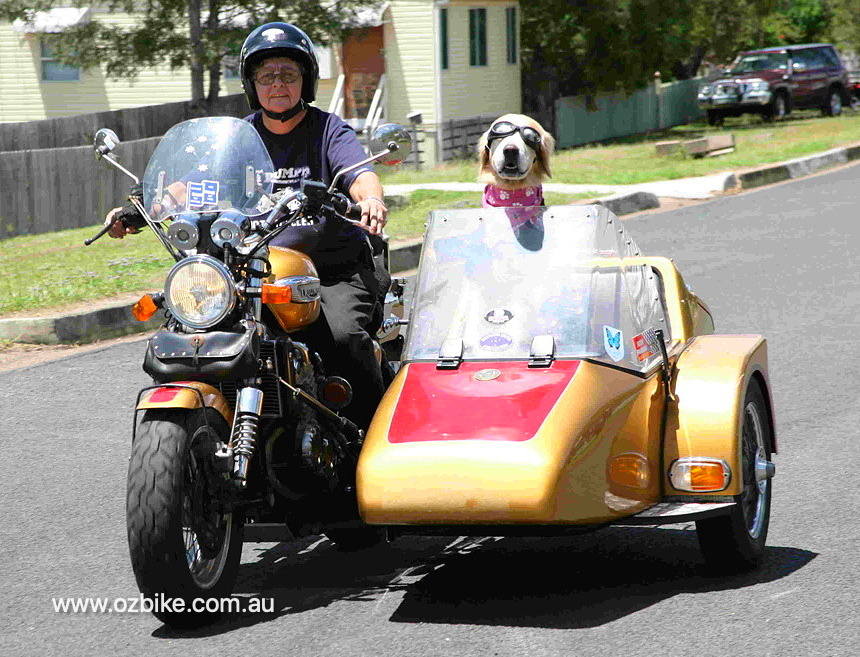 MEL WAS bought up a country girl. Her father had great expectations of her growing up, marring a farmer and giving him grandchildren. Luckily for him he had another daughter. Why? Because Mel never married.
She had to move to the big smoke to find work and took a job as a courier in a van. She was based in the Valley in Brisbane and delivered around the Brisbane CBD. She took to the job like a duck to water even though she didn't know the city from the Valley.
One day she had to make a delivery to a newspaper who were on deadline. It was peak hour plus RNA show-time traffic chaos and the motorcycle couriers had left for the day. Here was Mel's chance to show them what this girl from the bush was about. She grabbed a step-thru with an auto clutch and off she went to Queensland Newspapers. It wasn't far but she had to avoid traffic and travel up, over, and along footpaths on a ride that would put a roller coaster to shame. She made it there and back in one piece but was bitten by the bike bug. She was only 17-years-old.
Since then Mel has had a few bikes, a few scars and many broken bones, and a bike licence. Her first bike was an early 1960 Yamaha 180 cc that cost $150 to buy and $12 dollars to register.
When Mel turned 21 she bought herself a 1971 Honda 450 which she owned for 23 years before it was stolen. Her bike next was a 10-year-old 1983 GSX 750 Suzuki.
In 1974 as a driving instructor she rode an ex-police Honda 750/4.
Now that Mel is 50-years-old and still 5 foot 2 inches, they don't seem anywhere as big as they were then.
Mel bought her 1997 Triumph Thunderbird Adventurer with its 900 cc triple engine back in 2002. The sidecar was fitted by Oz Sidecars in Melbourne. It has a leading link front-end which makes the steering like power steering. Mel had a rear tire fitted to the front and tow bar fitted at the back between the bike and chair for towing a trailer. She also had a leash bolted to the floor of the sidecar to prevent JT, her Golden Retriever, jumping out as per police requirements. She just clocked over 50,000 km and hasn't had any mechanical troubles.
Mel is a proud member of the Ulysses Motorcycle Club and the Women's International Motorcycle Association. She has been helped by an outlaw gang member, and a policeman. She said she never saw them again but their common interest was bikes.
She has been told twice after accidents that she would never ride again but she defied the odds. Even though, thanks to many accidents, she can't travel far before stopping and putting her spine back into place, she still loves riding and does not own a tin top.
In the near future Mel and JT plan to ride all over Australia seeing places she never thought she would. The accidents have taught Mal many lessons, especially how to survive; luckily, she has missed more tin tops then have hit her.
If you catch Mel out on the road some place, give her a coeeee! She is one bloody nice lady, and her dog JT is one hell of a cool K9.
words & pics by Jules @ Top Gun