Old No 31 Night Train
Pat decided his Night Train was too standard. It needed a complete make-over.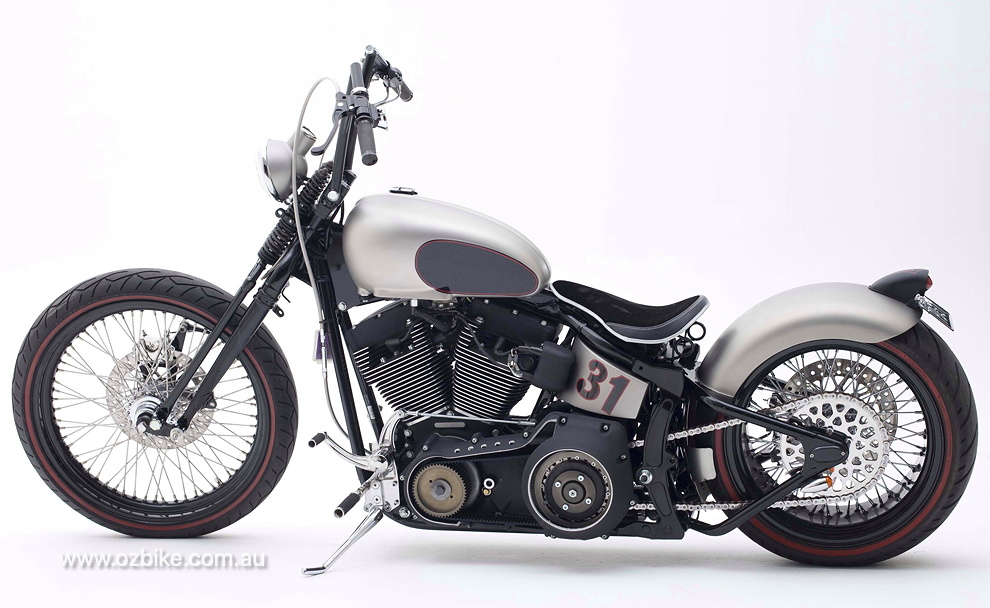 OLD NO 31 started as a Harley-Davidson Night Train. I was just going to ride it around but they're not the best looking when they're standard — I don't like chrome and shiny colours — but I didn't think I was going to completely strip it down and re-style it. But, you know, it's the same with everything — you just do one thing and then the next thing and then the next. I made a few inquiries and decided that Darryl from Farnon Fabrications (0400-300-797) was the best man for the job.
I wanted to keep it all ultra clean; very simple. I saw a bike I liked on the PM website, and I liked the bikes from Roland Sands (USA), so that's where we started looking for ideas. Darryl had some ideas of his own, and I had some ideas too, so we just sort of put our heads together.
We did it in a couple of stages. Darryl put the 250 on the rear and pipes; just the normal stuff. After that he put on the 23-inch front wheel and a five-degree rake to get the front wheel away from the down tubes. More recently he installed the original, early-model, Harley springer front-end and mini-apes.
I didn't like the big Night Train petrol tank with the dash so we went with a petrol tank from an old Triumph Tiger. I've always been into dirt bikes so I really liked the way the tank turned out.
Once we'd ripped out the dash we didn't have anywhere for the speedo. Darryl suggested we put it in the headlight and constructed a tube for it to go into.
The exhaust system is from Miami Custom Exhausts from the States.
The air filter is from Roland Sands which we also ordered over the internet.
The sprung seat was trimmed by Bad Ass Trim Co and was necessary to give it the look I was after. Everybody who does a sprung seat these days puts a cover over the battery. We left it open so you can still see the wiring and battery; really makes it look old school.
The rear chain was one of the first things we did, when we put on the 250 rear.
I don't like open primaries so Darryl suggested we just take out the chain and put in a drive belt and dry clutch. I wasn't sure how it would look with the cut-away primary cover but left it up to Darryl, and as usual, it worked out well; it certainly looks different.
We wanted everything black — motor, etc — but the silver is the original colour and we decided to stick with that.
The mural on the back guard was done by a mate of mine ages ago. I'm not sure about it and will probable respray the back guard in the future.
I'm not going to do anything else to it — although giving it a bit more power might be good. I am very happy with the way the bike has turned out and I'm on it every chance I get. I've done about 7000 km on it and I've never had a problem with it.
Photos by Wall 2 Wall; words by Pat.
Kat
I'M FROM Wollongong. I've spent my whole life there. I just love Wollongong because it's kind of like a mini-Sydney. It's got everything you need, but at the same time, it's not as busy. Also, it's got, I think, better beaches.
I just love going to the beach. I tried to surf once but kind of fell off the board a few times. I would like to try it again though. I am a big water baby. There is a lot of freedom going under water. No one can talk to you or annoy you. It's just you and yourself.
I have a cat, Missy. She is a little bit of a psycho. She doesn't like very many people, except me. My brother and my sister both have a dog and my mum has birds so it's kind of like a farmhouse at home sometimes.
I started modelling when I was travelling in Canada. It was basically just to get a bit of extra money and I had a lot of fun and so I kept doing it when I came back here. I guess people just see my work and they contact me. It's kind of weird sometimes to have people message me and it would be like, "Oh, I saw your work on this website and I want to work with you." It's gone really fast for me, actually. I have only been doing it just over a year.
A lot of people have said that I look like a dancer but, other than going out partying and dancing in the clubs, I've never done any structured dancing. I did gymnastics when I think I was about five but that's about all. Everyone asks me if I did ballet which is kind of weird because I am definitely not that kind of girl.
I actually talked to Walter quite a while ago about doing a shoot for Ozbike because I've been interested in motorcycles since a young age. I said I would love to be pictured with one, and now I have been.