Big Boar Harley Heritage Reborn
This bike was a real basket case when Brenton bought it. It was on five shelves in a mate's shed. It'd been ratted; bits taken off it left, right and centre; bits had been pulled apart and put in boxes and egg crates…
IT'S A LONG story, but it was a complete bike at one stage, then it was in an accident and bits got taken off it—someone wanted this, someone wanted that. Somebody else bought it with the intention of building it and never did. So I got it in a whole pile of boxes through a mate of mine and we put it in the shed.
We sat there one Friday night, about 12 of us, and it was like Christmas. I was sitting in the middle of all these boxes holding up bits and someone would yell, "No, that's out of a Shovel," so it would go into a different pile; or, "That's from an Evo," so it would go in another pile again.
By the end of the night, and a couple of cartons of Jack Daniel's later, we had all these piles of motor, gearbox, frame, suspension, you name it.
From there I put all the motor into a big box and sent it to Darren at Lewis Race Engines in Mt Barker. He started to assemble the motor and ported it and did the pistons and balanced it and so forth.
The gearbox had broken gears so I sent it down to Nick at Pro Street, and Nick and Joe built the gearbox.
I had to build the gearbox again because I'd put an electronic speedo on. Nick pulled the gearbox apart, bought me a new case, and put all the gears into that.
Then I got an exposed primary drive which meant we had to pull the gearbox apart again to get a later model main shaft in it. Nick did that too.
Then I bought another frame from Bendigo, a second-hand wide one. It had no numbers so there was a lot of messing around getting frame numbers and engineers and it was all getting too hard. But I needed the frame because I wanted a wide back wheel. You can't have a Harley with a standard back wheel; it's got to be a 190 or 200 plus. I ended up buying a genuine Harley-Davidson frame and Rob from Streetfighters did the modifications. He cut the webbings off the back and cleaned up all the welds and the gussets, and made the saw cut disc rotors.
I was at Hidden Valley years ago, when I was about 17, and pretended I was part of the photo crew for the Harley Drags. They let me come in over the fence to get some decent shots and I saw this bike with an exposed primary. I said, "Mate, I've gotta have one of them one day," and I'd never even owned a Harley.
I didn't know what to do with the new Zodiac tank when it arrived from the States so I took it down to Bob at Evolution Crash and he tidied it all up and base-coated it, then Jason at Sic FX did the hog on the side.
My last bike was a Genny Shovel with a boar on the side of the tank. There was a Toyota Corolla advert on years ago with a pig that turned into a wild boar to illustrate that it wasn't just a chick's car; it was a tough car too. I've always liked the hog and it looked tough, you know, with the tusks. I had wild boars tattooed on my shoulder blades, then I got the studded collars and the chains going into the V-twin of the motor and wrapped around the barrels. The idea behind it is that the power of the hog motor is greater than the power of the two hogs trying to split it.
I chased up a guy about 15 years ago to paint that hog onto the bike like a dog in the back of a ute; a hog in the wind. So the hog on the tank is running against the wind but it's also got the studded collar and the chain. When this bike came along I was talking to Jason and he just looked at it and said, "Nah, that's not tough enough." He came in with this picture the next morning, and it was, "Yeah, that's the shit."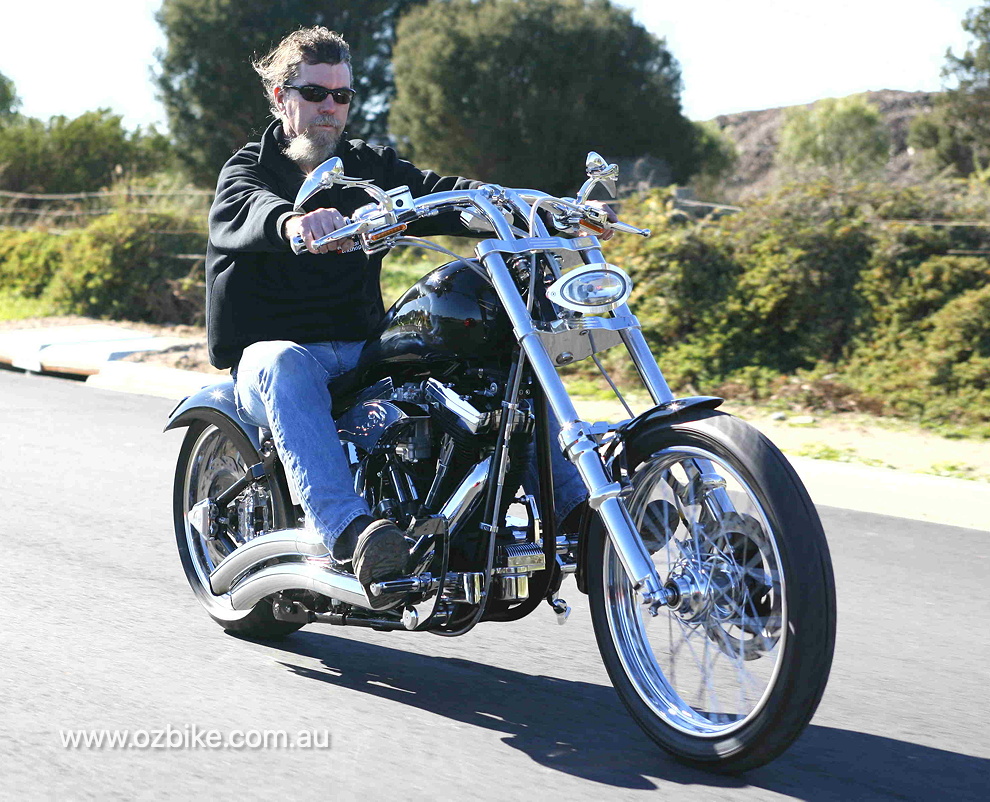 The matching tattoo was done by Bronwyn at Tattoo Cave in Salisbury. There was a lot of discussion about how it should sit, whether it should wrap around or go up and down, or be on my arm so you can see it when I'm riding. I've got a mate who pays me out about the pig on my leg, calls me Babe in the City.
My wife and the other boys pay me out because the bike would just sit in the shed, but that's where I spend most of my time. I'd sit on the lounge with a few beers and a few Jacks and I'd take the tank off and borrow one from somebody else to sit it on there with a different set of bars or a different wheel. I'd change how it looked and quite often it sat there with cable ties holding things on but I'd get a visualisation of what it could look like.
My mates would come round and start pushing the bike and I'd be "What are you doing?" and they'd say, 'Just want to see what falls off.' I got a lot of grief from them because it wasn't on the road, and I wasn't riding it so they'd say to just go and buy a new one. But this one's different.
I've got the advantage of being a mechanic and having a lot of mates in the business.
Nobody wanted the front forks, they had dents in them, so I took them to the engine re-conditioner who spot welded the aluminium; then Steve at Chromemasters chromed them and they came up just beautiful.
Same with the rocker boxes—they'd been sitting around getting weathered and scratched and chipped. The engine re-conditioner said to go and get some new ones but once Steve had chromed them up… the engine re-conditioner honestly thought I'd bought new ones.
So the work was done by me, Darren at Lewis Race Engines, Nick and Joe from Pro Street, Rob from Streetfighters, Jason from Sic FX, and Steve from Chromemasters. Pro Street supplied a lot of the stuff, so did Demon Cycles in Florida, and the seat's from Jason Skinner.
We had the first decent ride last weekend, on the 12 month anniversary of a mate's accident; 22 of us, up through Clare, Auburn, Marrabel, Kapunda. Nothing major fell off, just a couple of little bits, and it kept up with the others easily. And everywhere we stopped, this is the bike people looked at.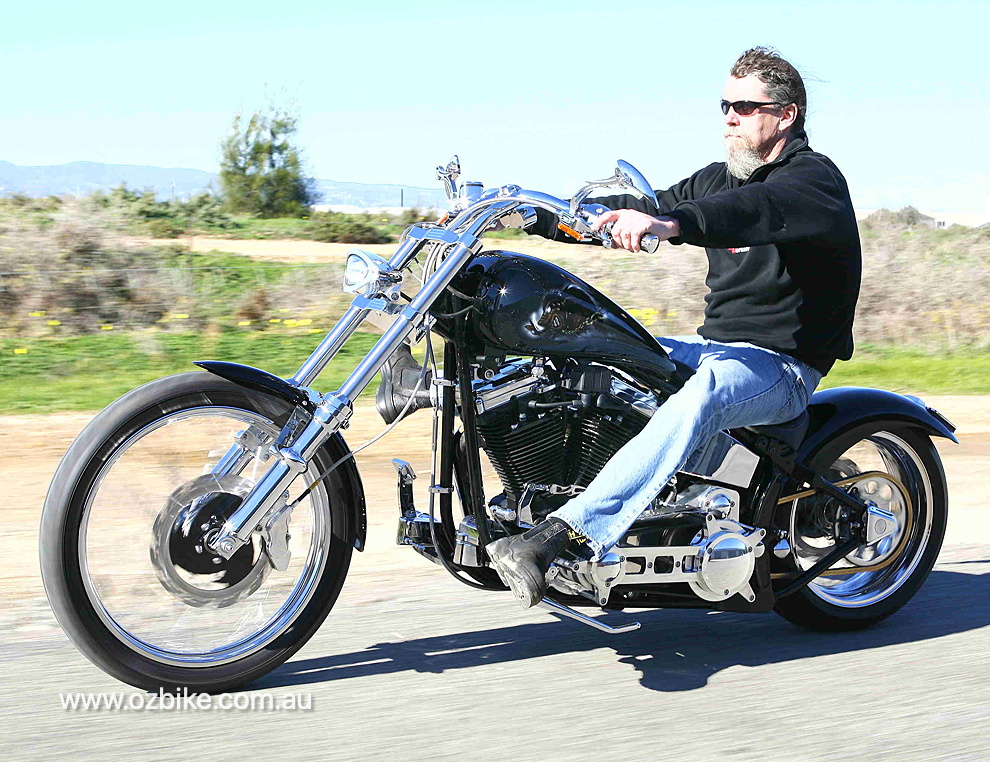 pics by Chris Randells; words by Brenton