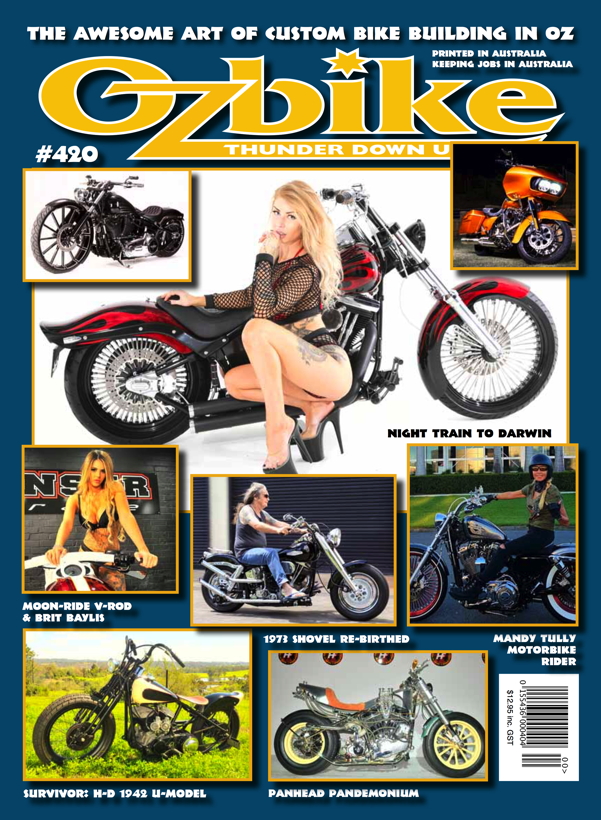 Ozbike #420 has now been printed and the subscriptions will be posted out tomorrow (Thursday).
This is a great opportunity to grab a copy, by having it delivered to your mailbox. We'll even pay the postage (Australia only). Go to Ozbike #420 for more details.
Check out all outta sight Custom Bikes in Ozbike #420:
Fully Loaded Road Glide;
Moon-Ride Rockstr V-Rod & Brit;
The Captain America Bike;
Survivor: H-D 1942 U-Model;
Panhead Pandemonium;
1973 Shovel Re-birthed;
Fat Boy Tribute Bike;
Softail Springer Modern Classic;
Skip School Attitude Street Bob;
Night Train to Darwin;
Breakout Wheels Keep On Turning.
Also check out all the other interesting articles including:
Parts Bin of Custom Bike Bits;
Obscene Handlebar Height Rules in Oz;
Mandy Tully Motorbike Rider;
Readers Rockets;
1% Movie Review;
Mel Carrall: Airbrush Artist;
Rusty 12 Project Bike;
Bullbar: Liar, Liar, Bike's on Fire;
H-D Battle of the Kings Winner;
and a Cocktail of Piss-Funny Yarns.